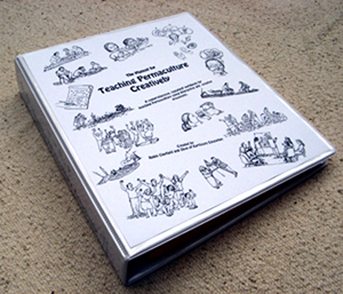 By Robin Clayfield and Skye
A 320 page hand-made source book on Creative Facilitation and Interactive Learning Methods and Process written especially for Permaculture Teachers and Educators. Written by Robin Clayfield and Skye and published by Earthcare Education in 1994. It is still very relevant today and has become an important toolbox for course leaders all around the world having been purchased by people in over 40 countries.
The following text from the Introduction (edited slightly) gives a good idea of the approach behind the Manual.
Introduction
Which came first, the chicken or the egg?
Or, a simpler question, which came first, learning or teaching?
Since learning does happen without teaching (it even happens despite teaching) we believe learning to be a priority over teaching.
In fact, this is our basic assumption towards education in general and our approach in this manual. Learning is what we are really interested in, teaching to us is the process of creating an environment in which people can learn. To us, the needs of the learner are more important than the needs of the teacher.
This manual is not about educational philosophy, nor is it an academic treatise on educational systems. Like Permaculture itself, this manual is practical – a workbook made up of numerous learning processes which work. We know they work because we have been using them for more than twenty years.
The manual also explains "why" they work, however that is not the way our approach developed. The processes we developed came out of our own, and others imagination, intuition and design skills – we tried a new idea, if it worked we continued to use it and have included it in this manual. If it did not work then we scrapped the idea – the only criteria being whether or not our students enjoyed the process and whether or not they learnt from it. It was only later that we came across recent research in areas such as psychology that we began to understand why they worked. While the "whys" are interesting we are more interested in practical results – ie does learning happen?
We encourage manual owners to use it in a practical, real-life way. As you read it, have a pencil or high-lighter at hand so you can add your own notes, comments, drawings, graphics or high-light relevant parts. Use the processes and see if they work for you, then change them – do not just follow what we have tried. Use our ideas as a springboard for your own creativity – capture the essence of our approach and make up your own ideas, change ours, mix and match them and then try them out in the only way that is real, in the classroom. Add extra blank sheets to the binder (that is why we chose this format) and write up your own processes. We hope you tailor this manual to your needs. Your manual should grow as you grow in creative facilitation – we have only supplied the seed, it is up to you to nurture it and help it grow.
If you develop and test new processes, we encourage you to share your information with others on the same path. An effective way to do that is to write to us with your ideas and experience, so we can include them in a proposed updates version in the future. We would rather be the compilers/editors of a developing holistic approach to education rather than the authors of a text book on teaching.
While the manual is specifically aimed at Permaculture teachers, little Permaculture content is included. We assume everyone interested in this manual has a sound knowledge of Permaculture and some of the many excellent texts now available on this and similar subjects. The manual is not so much about Permaculture Education as about the "permaculturing of education". Nonetheless, the processes listed here can equally be used by teachers in any subject or discipline and we welcome input from them.
Finally this manual is very personal. It is the story of our growth and change. It is the story of our own personal learning process and it is written that way. We invite you to join with us, in two of our main passions,  – "learning" and the "learning of Permaculture".
Skye, Robin Clayfield