Group Agreements and how to navigate this successfully with groups of all sizes and persuasions seems to be a hot topic at the moment. It's important not just for community group, organisations, learning and education group and businesses but also for anyone in a family or relationship who values clarity and shared understandings.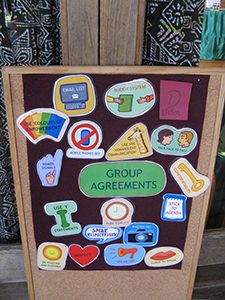 Robin has fielded several questions from interested people over recent months about this topic or people have asked for more guidance about her 'Group Agreements Icon Set' that she uses in her courses and with groups. Now the interest will be taken into a Q&A Zoom session for an hour of exploring together with any of the Patreon Patrons who would like to join, contribute, question and unravel this essential topic.
The session will be on Tuesday 23rd January at 7am Qld, Australia time (so people from Europe and UK have a chance of joining).
Learnings and contributions from any of these Q&A explorations will end up finding their way into the book series that Robin's writing and this topic is central to mini book I – Dynamic Teaching and Facilitation – The Foundations because Shared Agreements really is foundational to any group and a necessary subject for all group facilitators to have a handle on.