Robin will be a speaker in the wonderfully crafted Regenepreneurs Interview Series! The host, Karryn Olson-Ramanujan*, created this series to highlight women leaders in Permaculture and shed light on the entrepreneurial skills that help us thrive in our regenerative right livelihoods.

The interview will be live on Friday April 21st 6pm EDT in the U.S. (UTC-4), which is Saturday April 22nd at 8am in Australia (UTC+10). Please mark your calendars, because if you attend the live interview, she will answer your questions about her approach to thriving in her work. If you can't attend at that time, the recording will be available for 24 hours.
Click here to sign up to receive information about how to join us!  There is a small investment for listening and being. (Karryn is dedicated to mutually beneficial relationships—she and the other speakers are crowdsourcing outreach so that  all benefit from helping get the word out. The link above lets Karryn know that you heard about the interview from Robin. If you aren't comfortable with that, you can simply go to https://regenepreneurs.com/interview-series/ to sign up.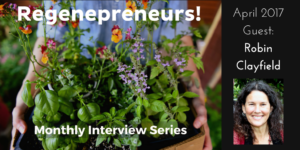 *In 2013, Karryn wrote "A "Pattern Language for Women in Permaculture" and hosts a compilation of "Best Practices to Support Women in Permaculture." If you haven't read them yet, check them out on her website, under "Blog." There are also other great interviews with Permaculture women which you can access through the link to Robin's interview too.
Support Robin and yourself by listening to the interview and engaging with this valuable sharing. Feel most welcome to share this link with your networks and friends. Thank you 🙂