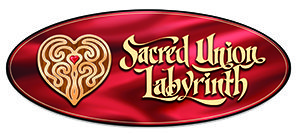 Robin's Sacred Union Labyrinth design is now know to many, having been created as an art and ceremony instillation at Woodford Folk Festival in Queensland these last five years. Robin woke up in a huge rainstorm one morning in January 2011 with the image in her mind. She attributes Labyrinth maker Mark Healy as being a spark of inspiration for her to conceive this design.
Here's a link to the Sacred Union Labyrinth page on FaceBook
Labyrinths have appeared throughout history in many cultures and many forms. Perhaps the easiest to make and use is a simple spiral design which turns out is the predominant labyrinth type at Damanhur in northern Italy which is a federation of communities with a spiritual basis. They have created underground temples carved our of the hills and an abundance of stone spiral labyrinths above the cave systems, some of which are open to the public to walk.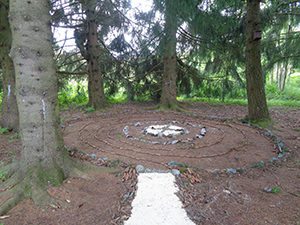 Robin's European tour of her 'Dynamic Groups, Dynamic Learning' courses last year also included, by invitation, two 'Wise Women's Weekends', one in Switzerland and one in Italy. Being a lover and creator of labyrinths and wanting to include ceremony and sacred circle spaces into the Women's Weekends, Robin naturally thought of making a labyrinth. The Sacred Union Labyrinth is quite a complex design to mark out and make so she settled on creating a simple spiral design with an opening into a sacred centre space where there could be symbols of the elements and directions and women could place objects from nature that could represent their intentions for the weekend or for change in their lives.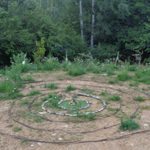 With the help of Kym Chi from Canada who supported Robin with both the Women's Weekend's and the Dynamic Groups course in Italy, the pair created a delightful and very special spiral labyrinth at each venue.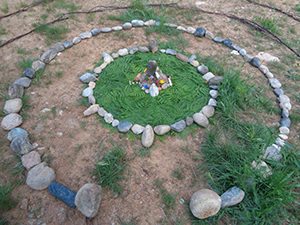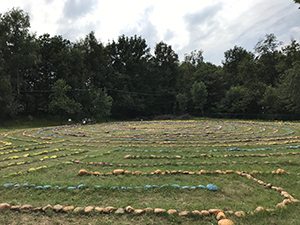 After the women's event in Italy they went together to Damanhur for a five day visit and were very pleasantly surprised to find spiral labyrinths are a predominant feature used for healing, relaxing and conducting ceremony at the centre which is becoming world famous for it's incredible art, sculpture, mosaics and stained glass ceilings and doors. They have pioneered selfic technology as well as the 'music of the plants' and their temples as like nothing else on earth.