Robin Clayfield's 'NEW Permaculture Principles Card Game' is now complete, finished, edited, proofed, dressed up with amazing art and design, printed, collated and now available. It was launched internationally at IPC UK (International Permaculture Convergence) in September. FaceBook event: https://www.facebook.com/events/469474966546675/
The set is a card-matching game for teaching and learning the latest Permaculture Principles and Ethics and comprises 80 A6 full colour cards and a fold-out booklet.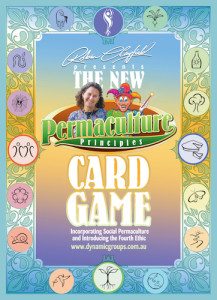 It incorporates David Holmgren's updated principles with the original principles and icons by Richard Telford and David Holmgren.
It includes photographs, mind maps, key principles, explanations, solution map and instruction booklet.
It's an interactive tool for engaging all learning styles and enables 'speaking and doing'.
It expands on the understanding of Social Permaculture and introduces the 4th Ethic, Spirit Care.
With thanks to Rob Clark for beautiful art and design work and Eve Witney for amazing editing and InDesign skills.
Thanks also to Skye who together with Robin created the 1st ever 'Permaculture Principles Card Game' over 20 years ago.
The set is printed and produced on the Sunshine Coast in Q'ld and packaged in a 100% cardboard box using soy based inks.
Thanks everyone who's supported and encouraged the journey and may this resource support teachers and facilitators of Permaculture to make the learning journey more fun, successful and memorable and may more people learn Permaculture easily.