Every year Robin facilitates at several gatherings, festivals and conferences around Australia and sometimes overseas. Two gatherings that are closest to her heart and that's she's also involved in the behind the scenes support and the ceremony creation and energy holding are 'The Joining' held around the spring equinox and 'Being Woman…' held close to International Women's day.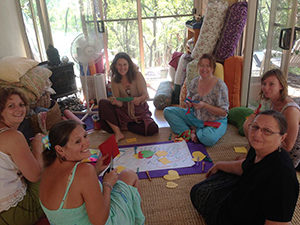 This year's Being Woman… gathering had the powerful theme of 'Freedom to Fly' and supported approximately 70 women relax, deepen, share, create, empower, dance, release, heal, cry, laugh, hug and generally have a wonderful 2 ½ days away on retreat in the Mary Valley.
Click here for a link to the FaceBook page
and Click here to go to the Website
The Joining is fast approaching this year and promises to be an expansive, deep and nourishing time. The theme is 'Weaving the Invisible Threads of Community'. Men and Women come together to connect, explore, heal, communicate, challenge themselves, have fun, dive deeply and grow. The next gathering is from 22nd to 25th September.

Click here for the link to the Facebook page