Things are moving slowly with Robin's writing of the five book series, though the two card games that are part of the project have been successfully launched – the 'Permaculture Principles Card Game in September last year and the Creative Process Wild Cards in November. All the wild cards fed straight into the chapter that's being worked on at the moment in Book 1, the 'Tool Box' chapter.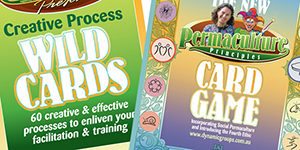 As well as the 60 Creative Processes in the card set, the chapter will highlight many other processes, some that act as 'Glue Processes', serving the function of supporting the group to work well together, meet and greet and make the most of the material and the time spent together. Ice-Breakers, Name Games, Grouping Processes, Revision Processes and Check-In's are a few examples.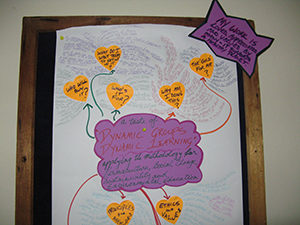 Also included will be many conventional processes that, even though not creative or participatory, still are valid as ways to present content or teach specific information. Ways to tweak them to be more engaging, fun and memorable will be outlined to support teachers, facilitators and group leaders to have the biggest and best tool box ever.
To register interest in staying in touch for when the first book in the series is launched email Robin by clicking here