Please click on any of the following links for general course information, history and details as well as links to fliers for the next event.
COURSES, WORKSHOPS, PRESENTATIONS
and CONSULTANCIES:

'Dynamic Groups, Dynamic Learning' Trainings

'Social Permaculture' Weekends

'Dynamic Decision Making' Days

'Dynamic Learning' Facilitation Consultancy

'Permaculture Meets Creative Design' Weekends

'Permaculture, Deep Ecology and Earthcare Design' Courses

'The Love Feast' Retreats

'Sacred Union Labyrinth' Ceremonies

'Recharge' and Visioning Processes

Guest Presentations and Keynotes

'Earth Healing and Nurturing' Days or Sessions

'Gifts for Wild Women' Retreats or Sessions

'Wild Women's Wisdom Weekends'

TAA40104 CERTIFICATE IV in Training and Assessment
For Upcoming Courses and Events see the Home Page in the right hand

column under the quick link buttons

.



Article on 'Ten Ways to Love Your Group, Family and Community'
COURSES with EARTHCARE EDUCATION
Have you ever fallen asleep in a lecture or PowerPoint presentation or been so bored or overloaded with information that you couldn't possibly take in another thing? Have you ever presented to an audience or led a group where participants looked stunned or sleepy at the end, gave less than positive feedback or seemed confused or stressed by all the information? Have you found yourself thinking that there must be a better way to get your information across or that you'd love more tools to enliven your groups and support participants to enjoy the presentation and receive the maximum benefits?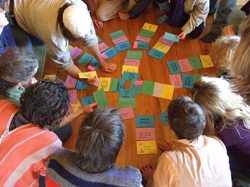 These types of experiences and questions sparked the development and evolution, over a twenty year period, of 'Dynamic Learning', a holistic learning theory that forms the basis of all the courses, workshops, presentations and consultancies offered by Earthcare Education and facilitated by Robin Clayfield and friends.
DYNAMIC GROUPS, DYNAMIC LEARNING – This unique, intensive training is designed to up-skill people in the use and development of creative, interactive learning methods and  educational empowerment techniques. Confidence, knowledge, creativity and skills are boosted in a dynamic, participatory and fun way and an exciting 'tool box' of processes and techniques is developed throughout the journey.
SOCIAL PERMACULTURE – Care for yourself, your people and your groups by attending this unique workshop and learning how you can work together more effectively to promote social change. Offered for the first time in WA, this workshop will bring the topic of Social Permaculture to the fore and support it's integration into the wider Permaculture context.
It will especially appeal and be useful for anyone working in group situations, from course and group leaders and facilitators to transition group participants, workplace teams, community groups, social enterprises, even families.

DYNAMIC DECISION MAKING – A one day Professional Development workshop designed to assist existing and newly established groups to develop good governance and collective decision making processes essential to the growth of a healthy group culture and happy human relations, vital to the long term success of any community project.
It is ideal for Group Leaders, Committee Members of Community Groups and Organisations, Teachers and Facilitators, plus anyone interested in the smooth, fun, successful and efficient functioning of Groups, Teams, Boards, Businesses, Associations, Communities and Co-operatives.
RECHARGE – Revitalise your project, community group or business venture. This one day workshop is designed specifically for your group after a briefing session with the client group/leader. Visioning and goal setting, team building, nurturing, trust and problem solving exercises, energy raising, communication skills, group dynamics, revamping, abundance tools, positive group and self image, ceremony and celebration are woven in where appropriate.
CREATIVE FACILITATION CONSULTANCY (ONE on ONE) – Ever been the presenter of a workshop or presentation and found your audience disengaging, getting restless, falling asleep or they simply give feedback that they're a bit overloaded with information? Have you wondered how to add more colour, aliveness, group interaction and creativity to your offerings so that your presentation is received with enthusiasm, the group is active and contributing and the information is retained easily. If you can't find the time to attend one of Robin's 'Dynamic Groups, Dynamic Learning' Courses or need some more focused tuition and support, this may interest you.
EARTH HEALING and NURTURING DAY – Designed to deeper our connection with ourselves and the Earth and to bring a sense of the sacred into our daily lives, this group experience can add vitality and bring a special energy to any working group, team, community event, conference or festival.
PERMACULTURE, DEEP ECOLOGY and EARTHCARE DESIGN – You'd have to twist Robin's arm real hard for her to offer this training again but it's possible. After facilitating and training over thirty Permaculture Design Certificate Courses she presented several 'Permaculture, Deep Ecology and Earthcare Design' Courses by invitation to special groups. This reflected more what participants were wanting to learn about and fitted with Robin's ethics and life's purpose.
WILD WOMEN'S WISDOM WEEKENDS and GIFTS FOR WILD WOMEN DAYS– Sacred and empowering experiential retreats offered with love. Wild Women's Wisdom Weekend are co-facilitated by Zjamal Xanitha and Robin Clayfield only by invitation these days. Gifts For Wild Women is an experience led by Robin which brings the essence of her Gifts For Wild Women Book alive and offers women 'tools',  gifts, nurturing, deep connection and yummyness in a container of sacred space.
GIFTS FOR WILD WOMEN and GENTLE MEN – A 1 to 2 hour session or a full day workshop, this co-gender experience guides participants through the essence of Robin's Gifts For Wild Women Book and is usually only offered by invitation.
AWAKEN YOUR DREAM– A 2 to 3 hour session designed especially for conferences, seminars and festivals where the future visioning and empowerment of participants is an important component.
CONFERENCE, FESTIVAL, SEMINAR and KEYNOTE PRESENTATIONS – Robin regularly designs presentations and workshops to suit a conference theme or the current needs of a group, business, network or organisation. Her interactive, creative approach brings an element of fun and connection where often there is an overload of 'expert dominant' PowerPoint presentations.
WEALTHY COMMUNITIES – Featuring the Maleny Community's Co-operative Movement, Sustainable Maleny and Robin's home community of Crystal Waters Permaculture Eco-village this presentation offers hope and ideas to other communities working towards a transition to relocalisation.