GUEST WORKSHOPS and KEY NOTE PRESENTATIONS
Robin is a dynamic and experienced Facilitator and Presenter who's unique, creative and interactive style brings a sense of fun, depth and bonding to an audience – be it a small, intimate group, ten to thirty people, a conference of 60 to 100 or a festival presentation with several hundred people.
EXAMPLES FROM RECENT YEARS

Presenting at Woodford Folk Festival
'Healthy Connections' – Connecting with self, Connecting with others ( 2 sessions with Amrita Hobbs in the Folk Medicine Program)
'You Can Change The World' (A storytelling presentation and panel of long-term environmentally active friends in The Greenhouse Venue)
A wide variety of presentations in The Greenhouse most years since the Maleny Festival days.

International Community Development Conference 09
'Wealthy Communities'
'Activating your Wealthy Community'


National Permaculture Convergence
'Future Directions'
'Creative Facilitation in Education'
'Business is not a Dirty Word'

Facilitating at 'The Joining'
Holder of the Ceremonial Energy for 4 years including Opening and Closing Ceremonies
'The Ritual Of Balance' (with a male support person and friends – a 3 hour Ritual involving cleansing through 'gateways', invocation, spiraling and a balancing dance of the masculine and the feminine to the pulse of sacred drumming)
'Crossing To The Other Side' (with Zjamal Xanitha – a 3 hour playshop exploring the adventure of being the other gender)
'Mandala Breath Session' (with Rudran Branock and Friends – a group Rebirthing session with a shared intention around the theme of The Joining)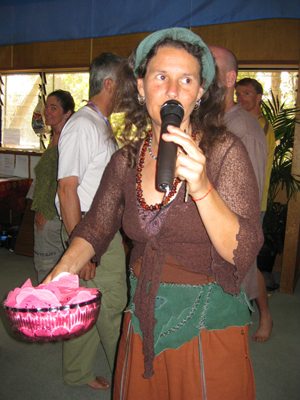 Everywoman Gathering
'Healing the Old, Stepping into the New'
(Surrender, dive deep, sit, play, dance and connect with other women in your place of true power. Share your wisdom and receive the wisdom that is within each of us. Step into the balance of love, wisdom and power and surrender all that is not of your journey now. 

In a circle of sacred space the power of a 'Give Away' ceremony is woven. Bring your intention and a special object that symbolises something you are ready to let go of from your life. Know what is perfect for you now and receive a symbol of that to take home.

The power of ceremony and ritual to support our lives and help us step into our purpose more fully will be felt through out 'Everywoman Gathering' and very strongly in Robin's workshop. Please also bring sacred objects to weave a central alter together. Blessings on your journey.)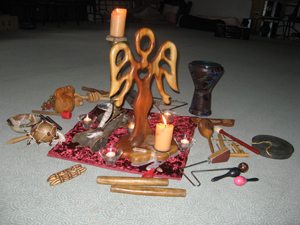 Being Woman Gathering
'Stand In Your Power'
'Live your passion, Awaken your dream'
'Transforming your Connection to Yourself and the Earth'
(Immerse yourself in the gifts and strengths of Earth, all the animals and plants and all beings of our beautiful planet. Dance your connection to nature. Create, play, give thanks, share with other women, dream a little and envision a better world for yourself and planet Earth.

Join Robin in a sacred ritual space as we weave healing and magic together. Please bring a sacred object that symbolises your connection to nature.)


L.E.T.s presentations (Local Energy Transfer System)
Ecological Solutions (Max Lindegger's) international Uni student courses
Sustainable Maleny Forum

Heart Politics Conferences
Key Note presenter facilitating on the theme 'Deep Change'
'Walking Together, Hearing the Other'

Maleny Literary Festival
'Bringing a cookbook to life'

Passion Tasting Festival
'Live your passion, Step into your dream'
(What do you most want to be doing in your life at the moment? This workshop will offer a fun, interactive adventure weaving together creative processes and empowerment techniques, celebration, dance, music and ritual, creating a powerful container to support participants to step forward with hope and excitement.)
'Honour and connect to the Earth for personal and planetary healing'
(Spend this special sacred time immersed in creative processes, guided journeys, ritual, movement, sound, healing and deep connection. This beautiful workshop experience will support participants to give to themselves and to our beautiful planet Earth at the same time.)