NEWS: We have decided to not offer this Training any longer. The following information is provided as historical information.
TAA40104 CERT. IV in TRAINING and ASSESSMENT
 This training is ideally suited to people working in sustainability, community, creative and healing industries and was originally designed for those wanting to be involved in the delivery of Accredited Permaculture Training (APT). Our cutting edge approach to this sometimes challenging subject matter benefits people from all industries and walks of life.
Participants in previous courses have included Community Development Workers, Nurses, Art Therapists, Counselors, Social Workers, Trainers in Human Services, Project Managers, School Teachers, Chefs, Massage Therapists, Horticulturalists, Community and School Garden coordinators and many Permaculture Trainers. Some 'mainstream industry' professionals have also chosen to be participants.
TRAINERS
Virginia Solomon and Robin Clayfield with Julie Davies assessing assignments. Auspiced by Eltham College Training Services.
The course is staged in three parts.
PART 1 and 2 are in the form of a nine day intensive where the focus is on Creative, Interactive Learning Methods within the context of covering all the essentials for gaining the TAA Certificate IV in Training and Assessment. Facilitation uses the Dynamic Groups Dynamic Learning Methodology. These trainings are held in a residential context if possible. PART 3 involves a series of take home assignments where support processes are put in place to ensure that participants complete the work in the required time frame which is three months after the course.
These courses are held annually at Crystal Waters Permaculture EcoVillage SE QLD and are also offered in others states during the year and by invitation.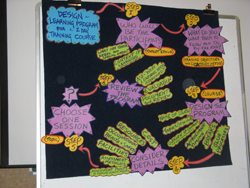 Testimonials
"Absolutely Fabulous course. I learnt so much and gained a huge amount of confidence. Training will never be the same again."
Judith Brockhoff – Business Manager, 'Dynamic Project Delivery'
"Robin's ability to incorporate creative facilitation techniques in with a very heavy and bureaucratic process was hugely successful whilst maintaining her integrity as a creative facilitator."
Luke Mathews – Community Garden Co-ordinator
"This course has supported me as a teacher to break down learning processes in a way that meets the needs of my clients in a fun, dynamic and masterful way!"
Kerry Medlow, Principal, 'Dynamic Training & Facilitation'
"This is a very 'heavy' course (content) delivered in a very creative manner. So it became fun (as far as possible). The group was truly dynamic, diverse and interesting."
Pamela Gurner-Hall – Lecturer TAFE SA