Sacred Union Labyrinth Ceremonies
Imagine walking through the journey of your life, step by step, honouring, remembering, giving thanks, releasing, surrendering, walking towards a sacred meeting with your Beloved. As you walk, your partner also walks their solo journey, each step bringing you closer to each other. The path winds around and offers you many experiences and opportunities for reflection. You sense and connect with your partner at times across the Labyrinth but you continue to walk at your own pace, honouring the journey that has been your life till now.
The path is lined with beautiful vegetation – leaves of many shapes and colours, flowers, shells, palm fronds, branches and twigs, all collected with sacred intent and well wishes by your family and friends who are now gathered around you in a circle, holding space for your Sacred Union Ceremony.
The pathway leads slowly but surely to meet up with your partner. As you step forward to meet each other you step into a new life, leaving the past behind, surrendering to a new chapter of this relationship and stepping forward in trust and beauty. Connecting at last after your long journey you take time to bless and honour each other and enjoy the stillness that gives gifts of essence and wisdom. Together you face the centre and stepping over the threshold make your way into the central heart of the Labyrinth to exchange words, gifts, rings, prayers, intentions and sweet sacred words…. Whatever is perfect for you and your Beloved. 
The central pathway leads you on your new journey together. Your love and sacred intent is witnessed and celebrated by all as you walk the path in union, out through the Love Tunnel and into a brand new world, full of love, blessings and abundance. 
Sacred Union Labyrinth Ceremonies, led by Mark and Robin, are available for your Wedding, Hand Fasting, Committment Ceremony, Event or Gathering. They can be conducted on any relatively flat area with surrounding vegetation (though this is not essential). They can be offered in conjunction with a Celebrant for a wedding. Please contact us for details. A beautiful Bamboo Grove, Earthcare Farm at Crystal Waters near Conondale is also available as a potential venue if you don't already have one in mind.
 The Birthing of 'The Sacred Union Labyrinth' 
Mark Healy – designer, facilitator, Labyrinth installation artist and creator extraordinaire meets Robin Clayfield – facilitator, designer and creator of books, courses and ceremonies. Both Grandparents and finished with conceiving more children, they have already birthed several projects in their short time together. 
Labyrinths have been Mark's love and passion for many years and have now become a key product of his new business Kitscape. He's made many labyrinths from an amazing diversity of materials over the last decade with community groups, schools, special needs people, family and friends plus for Men's gathering and other festivals, events and Ceremonial gatherings. Mark has created several of his own Labyrinth designs including his signature design 'The Angel Wing Labyrinth'. 
Robin has always loved Labyrinths and co-incidentally walked a large one at a women's gathering 2 weeks before meeting Mark, walking a sacred path with the intent of walking towards the perfect man to share in the joys of love on all levels. She also walked one of his Labyrinths without meeting him months before and was curious about its maker. 
Mark and Robin came together at 'The Joining', a 3 day annual gathering for men and women held on the Sunshine Coast each September. Robin is the' Ceremonial Energy Holder' for the gathering and in that role welcomed and began to weave Ceremony around the Labyrinth that Mark and his co-worker Julia brought to the gathering in 2010. It was during that gathering that they connected as life partners and have been sharing, loving and creating with each other ever since. 
Robin felt one morning that she had conceived 'something' and had a sense of wanting to draw and create a heart labyrinth for ages afterwards. She wasn't happy with her tentative drawings and she left them to gestate. A couple of months later while Mark was away, flooded in during intense rains in Queensland, Robin woke up with an image intensely etched in her mind. After sketching it down she couldn't stop at that and got out a block of clay and began creating a heart base, surrounded by small stones from the garden path and embellishing it with copper-wire for arches, a brass heart as a stepping stone feature, a flat stone in the central heart and spelt flour for the pathways (the sand in the sandpit was too wet to use).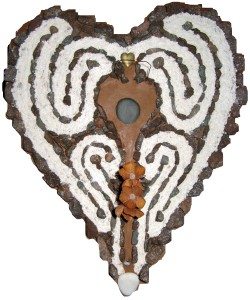 The Sacred Union Labyrinth was born, conceived by Robin and Mark in the early stages of their Sacred Union, birthed at home by Robin with out the father present – "typical" Mark joked when she sent him photos of the model and congratulated him on their birth. 
Mark sent the sketch and photos of the model to his Labyrinth friend and Colleague Alana who used her computer wizardry to create an artistic impression and scale drawing. The Sacred Union Labyrinth was beginning to grow up and was now able to have a presence in the world on posters and promotion for 'The Love Feast' workshop retreats, another of Robin and Mark's 'babies'.  
In preparation for using the Labyrinth as one of the integral processes in their retreat it was important to trial it and get the dimensions right. This is where Mark's skill and 'parenting' really came to the fore. On the beach, as a glorious sunset began, the first on-ground 'Sacred Union Labyrinth' was born as Mark used a forked stick to mark out the curves and key pathways so the lines and edges could be carved in the sand and joined together by two pairs of feet. Almost instantly, children appeared and were (mostly) carefully running around the paths, laughing and chatting.
It took some patience before the couple could finally walk their own creation, in silence, in deep respect and in immense gratitude for the guidance, process and the skills given to create this important and beautiful tool for Sacred Union. The joy in the gift of sharing this with each other was echoed by the waves and reflected in the luscious pink of the sky.