Eltham College in Melbourne. 20th to 25th February with Robin Clayfield
Become a more engaging and creative facilitator, teacher or group leader.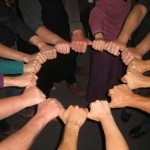 Build a toolbox of dynamic processes to use, way beyond what you could ever imagine. Grow more confident in leading groups. Learn how to work with challenges and conflict.  This 6 day training is specially for Permaculture, Transition Towns and Community Gardens folks and any one interested in Social Change, Environmental Education and similar. 
Also click the link above for the Creative Community Governance and Decision Making Day at CERES on Monday 27th February