What is Social Permaculture?
As a culture and a movement for positive global change we're getting better and better at designing our gardens, food systems, buildings and landscapes using Permaculture Principles, common sense ways of sensitively developing systems to sustain ourselves based on how nature and natural systems work. Designing our social systems, groups, communities and our household living using the same principles gives us an interesting exercise in 'People Care', a key Ethic of Permaculture. Try taking each of the Permaculture Principles and explore how your favourite group or a course you've just done has integrated each of the principles. Imagine how our world would be if all our organisations, groups, learning environments and neighbourhoods embraced these great approaches to life and people.
Dive more deeply into exploring this theme by joining Robin and Friends for A SMORGASBOARD of Social Permaculture, Community Development and Valuable Skill Enhancement.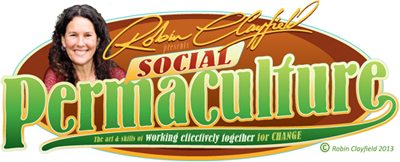 4 workshops over 3 weeks in August at Crystal Waters Permaculture Eco-Village. Sth East Q'ld.
Do one course, do two or do them all and receive a  substantial discount. Bring a friend, members of your local group or organisation, encourage your family members and come celebrate a deepening learning journey of how Social Permaculture can inform your life and living situation, serve your groups to achieve their purpose more effectively and easily and support a better world. 
Click here to see more details of the four courses on offer
'Social Permaculture' Weekend – with Robin Clayfield – 17th and 18th August 
'U Theory, Dragon Dreaming and Mini Vision Quest' – A weekend workshop with Skye from Brazil  – 24th and 25th August 
'Dynamic Groups, Dynamic Learning' Creative Presentation, Facilitation and Teachers Training Intensive – with Robin Clayfield – 26th to 31st August 
'Dynamic Decision Making' Day – With Robin Clayfield – 2nd September 
Click here to see the poster with details of all these courses 🙂
We'd love to share this special one off time with you.