Robin Clayfield's classic book 'You Can Have Your Permaculture and Eat It Too' has finally been reprinted.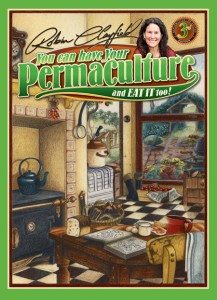 It's had a thorough re-edit, been completely re-formatted and had a partial content upgrade bringing all the information up to date. The Index is now twice the size, there's 6 new illustrations and the amazing Rob Clark has re-designed the cover which looks really classy with a matt finish. The book was first published 17 years ago and contains 13 years of Robin's life. She spent over a year drawing much of the info out of her head into the manuscript. The print run all sold out and for 12 years now has only been available as a photocopied version. See a 20 page taster of the book in the shop now. http://dynamicgroups.com.au/shop/#!/~/product/category=2749073&id=11984871
As well as coming back with a quality product, it's now also available as an e-book through Amazon and other sites.  http://www.amazon.com/dp/B00GN4LR8Q
A 'Print-On-Demand version for people outside Australia will be available early next year.