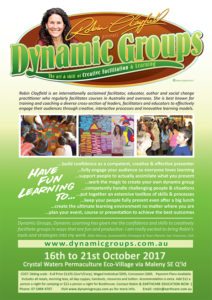 After a huge tour of UK and Europe Robin will be happy to be home and present her six day 'Dynamic Groups, Dynamic Learning' course at Crystal Waters EcoVillage from 16th to 21st October.
It's a good time to flag it in your diary and make a deposit before Robin goes overseas in mid May. This will ensure your place.
Here's the link to the poster.
and the website for more information.
"If you're interested in professional development and working with groups, this course is awesome. Robin Clayfield is an amazing teacher and I'm grateful to have had the opportunity to take this course several years ago."
Anne Gibson, The Micro Gardener