DATE CLAIMER – 16th to 21st October 2017.
'Dynamic Groups, Dynamic Learning' Creative Facilitation and Teacher Training Residential Intensive at Crystal Waters EcoVillage.
Created, Hosted and Facilitated by Robin Clayfield.
Book now, as a result of reading this post and receive a $50 discount on the course fee.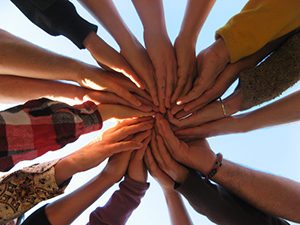 The course will be held at Crystal Waters in SE Q'ld and will be the only one in Australian for the year as Robin will be overseas offering 'Dynamic Groups' in many countries through UK and Europe during the Australian winter. Later in the year she'll be in India for the International Permaculture Convergence.
She wasn't planning to do this course in her home country at all this year but due to many requests and interest, dates have been booked. When she works in her home community of Crystal Waters she gets to bring all her resources and employ the very best cooks who use local and organic produce. They are always the best. If you'd like to use the payment plan system you are welcome to book in now and begin paying so it's all covered by the time the course starts or just pay a $300 deposit to hold your place.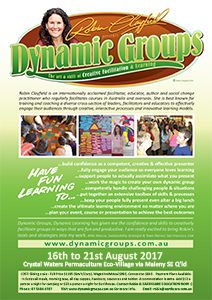 Here's the Link to the poster for more information
or visit the Dynamic Groups Web Site