Recently Robin was asked to facilitate a three hour session for a new arm of a training college. Her brief was to support them to come up with an Intention, a Mission Statement and do some Visioning. When considering the difference between a Mission Statement and a Vision Statement Robin felt a definition could be useful and found she could refer to a chapter in her upcoming book that she'd already written to guide her planning.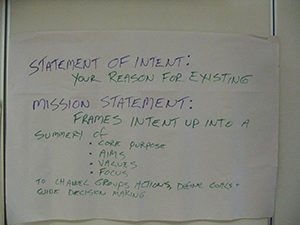 Here's the definitions:-
Group Purpose – A Groups Purpose is it's intention or reason for existing.
A Mission Statement – Frames up the purpose or intention of the group, business or organisation into a summary of core purpose, aims, values and focus as a way to channel the groups actions, define it's goals and guide decision making. It says what the group is, what it does, why it exists, and how it does what it does,.including reference to core values. It can name it's primary participants, products and services and it's location. It is designed to inspire all who read it beyond and also including the members of the group.
A Vision Statement – Describes in visual and graphic language the desired destination of the group, business or organisation. It declares objectives, encourages alignment with the groups goals and paints a picture of the future while inspiring and giving direction to members. It says where the group is going, it's dream for the future and what it wants to become in a living document that is revisited and revised periodically. It's usually an internal communication.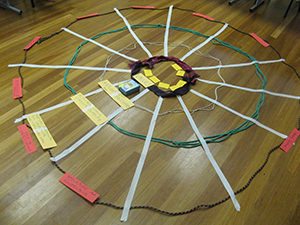 The outcome of the planning session with the college was fruitful and included an awareness that for any planning to proceed a shared understanding about the values underpinning the organisation was pivotal. This was approached by asking everyone, in their own quiet space, to write down all the vales they felt were 'Core' to the new organisation. One value per slip of paper. Each value was then grouped with others that were the same and placed in the centre. Agreement was sought using a 'Hand Gauge' Process and before too long it was clear which Values were important to all in the group and which still needed some thought, clarification or discussion. A lot was achieved in three hours though much more time is needed with any strategic planning to really set a solid foundation upon which to grow and thrive and kind of organisation.
Stay tuned for an e-book to be released soon on 'Shared Understandings, Visions and Dynamic Group Foundational Planning'.