A creative teachers and facilitators toolbox obviously gets shrunk to a minimum when flying, catching a bus or train, car pooling or cycling to a venue for work.
Robin regularly flies around Australia or overseas to offer her Dynamic Groups course and can't take her usual van load of resources, library books and instruments that she supplies for her course when she's offering them within driving distance of her home.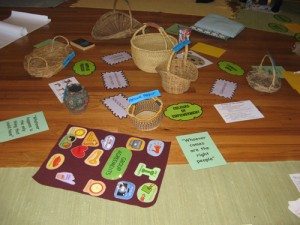 So what are the essential things she would pack with a 30kg luggage limit which also needs to include clothes and personal items?
1 x 24 pack of coloured felt pens (ask participants to bring some too)
2 x Red, blue, green. orange, light blue, pink, purple. brown Chisel Point Markers (and ask organiser to supply some as well but they often can't supply this diversity of colours)
A calligraphy pen (for writing on certificates)
A DVD marking pen
2 x Pieces of 'Sticky Carpet' (1200cm x 1800cm) if you work with this kind of stick on material as a medium for attaching visual material
30cm Velcro hooks (for Sticky Carpet)
Packs and sets of facilitation resources like card games, sticky carpet mind map sets, partner cards, role play instructions etc
Small variety of 'Sticky Notes'/'Post It' Notes (and ask organiser for more)
6 x light weight puppets, your favourite ones (ask participants and organiser to bring some too)
12 x small hand held, light weight percussion instruments (ask participants to bring some too)
1 set of juggling balls (ask participants to bring a set each or ask the organiser to supply 3 x tennis balls per person)
Several sheets of coloured card board of different colours (ask organisers to supply a diversity of colours and several sheets of each)
1 x small pack of Plasticine (ask organiser to supply some clay for modelling and/or Plasticine. Take a recipe for play dough just in case and ask for some flour, food colouring and salt)
1 x strip of 'Blue Tack' (ask organiser for more)
Small quantity drawing pins (ask organiser for more)
1 pair scissors (ask organiser to supply several)
1 lightweight rope or string (ask for a couple more solid ropes from organisers)
2 large Bulldog clips (plus ask for at least 4 or 6 more)
1 small pack of coloured chalk (ask organisers for some coloured pavement chalk)
A few sheets of A4 paper (ask for a whole ream from organisers)
USB's with Hand-outs notes and key info
Computer and power lead
IPod (ask for an IPod player to be provided)
Hard copy of each Hand-out notes you want done (and ask about photocopying in advance)
1 x large table cloth (ask organisers to bring several if possible, sarongs, sheets etc)
3 or 4 special relevant books if there is room (Favourites are a 'Mind Map' book by Tony Buzzan, 'Serious Creativity' by Edward de Bono, 'Learn Faster Now' by Jeff Hodges and 'Grounding Vision- Empowering Culture' by Robina McCurdy. Even taking this many is an extravagant)

1 copy of each of my books, cards games and products
Business cards and promo material
Posters, charts and display info
Note: In some situations it can be realistic to send a box of resources forward before the course or pay for excess baggage on an airline (not so for some like Singapore Airlines and not really possible if travelling to more then 1 or 2 countries with different weight restrictions for each transport option). Always good to check well in advance and to budget that in.
There's also a whole list of things to ask the organisers to supply too. Email Robin if you'd like this list.
Now, is there any room left for those clothes, shoes, towel etc??? Hummmm!