The PermacMed organisation in Spain has invited Robin to offer her full 6 day 'Dynamic Groups' Creative Teachers and Facilitators course there in late May.
Dates are 28th May to 2nd June.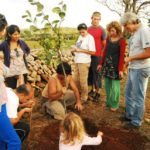 Robin ran a one day introduction to 'Dynamic Groups' in August 2015 and everyone there loved it and wanted her to come back and offer the full program.
This promises to be a rich and action packed experience offering many diverse and dynamic skills, processes and relevant information.
Here's the link to the PermaMed website page with all the info